Campus News
Study abroad in the Caribbean this July
Dr. Brice Noonan will lead a class that welcomes all majors to study Ecology and Conservation on the island of Roatan July 7-21.
---
Study the Biology in the Caribbean with the University of Mississippi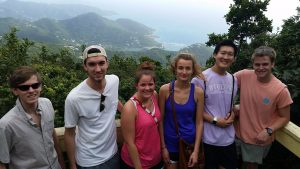 The island of Roatán is a long (20 miles) slender (4 miles across) mountain ridge that rises above the Caribbean Sea just off the coast of Honduras. The tropical forests that cover much of the island and the proximity to mainland Central America make this island ideal for the study of Neotropical biodiversity and the unique factors affecting plants and animals on islands.
---
July 7 – 21
Caribbean Ecology and Conservation -4 credit hours- BISC 380 or ENVS 399
The tropics harbor a disproportionately large amount of global biodiversity that is increasingly fragmented and threatened. In this course we will explore the impacts of urbanization, agriculture, logging, fire, etc. on these remarkable ecosystems. Course activities will focus on exploration of:
What factors pose the greatest threats?
How do tropical ecosystems respond to disturbance?
What is the scale and potential for biodiversity loss?
Effective conservation measures and success stories.
---
Students will be housed in small groups in beach-front villas on the northwest coast of Roatán (between West End and West Bay). Though lunch and dinner will be prepared each day for the group and are included in the price of the course, each villa has a full kitchen so you can prepare breakfast and snacks as desired.
An on-site dive operation (www.roatanclearwater.com) allows students to take advantage of being yards from the 2nd largest barrier reef in the world, offering students the opportunity to become dive certified. (NOTE: This is neither required nor included in the cost of the course)
---
About the instructor:
Brice Noonan is an Associate Professor at the University of Mississippi where has taught courses in Introductory Biology, Genetics, Evolution, and Herpetology. For the past 6 years he has taught courses abroad in the Bahamas, Turks & Caicos, Dominican Republic, and aboard ships throughout the Caribbean. His personal research program focuses primarily on tropical reptiles and amphibians, but also includes fish and invertebrates.
---
To reserve your spot in the course:
First, contact Dr. Noonan (bnoonan@olemiss.edu) to discuss the course.
If you are not a UM student: complete an application for undergraduate admission to the University of Mississippi here. This PDF document will walk you through the completion of this application.
Upon completion of application, contact Dr. Noonan to confirm your progress through this first step.
Complete the Study Abroad application here.
Once all of your course application materials have been received by the UM Study Abroad Office you are done! You will receive confirmation from Dr. Noonan shortly afterwards.
---
Frequently Asked Questions
What is the cost?
The fee for the 2-week course is $4,600.
Included in the cost of the course:
Tuition for 4 credit hours
All University of Mississippi fees
Housing
Lunch and dinner each day
Transportation to and from airport in Roatán
All course related excursions
Expenses not included in course fee:
Application Fee

Ole Miss application for admission $40-$60 (depending on residency).
Study Abroad course application $100.

Round trip airfare to Roatán
Textbooks
Spending money
Breakfast – The group will visit a grocery store to stock up on snacks and each villa includes a full kitchen.
I'm neither a Mississippi resident nor a U.M. student. Is the cost higher for me?
No, the cost is the same for all students regardless of residency or student status.
Will the credits transfer to my university?
There is generally little trouble receiving credit at your home institution for courses taken at other Universities. It is always a good idea to first check with your Registrar's office to confirm their acceptance of course credit and course equivalency. Notably some Universities require students obtain permission/approval before taking courses at other Universities.
Should I take the ENVS or BISC course? What is the difference?
If you are a biology major or minor you should take the BISC course. This course is for those that have completed introductory courses in biology (for majors) and should count towards the credits required for a biology (or related) degree.
The ENVS (Environmental Studies) course is designed for those interested in the environment and the natural world but who are not biology/natural sciences majors and lack the background courses in introductory biology.
While lectures/discussions will be the same for both courses, activities and testing/reporting will vary accordingly.
---
If you have any additional questions, please contact Dr. Noonan (bnoonan@olemiss.edu).